Our solution lets Bitrix24 users export leads and contacts from CRM to MailChimp lists. The app works on any Bitrix24 version and on free or commercial MailChimp subscription.
Main features:
No restrictions on the number of exported Leads, Contacts or Companies

Full manual synchronization between Bitrix24 and MailChimp

Ability to filter Leads by status

Export to any MailChimp list

Tracking of changes in contacts details to reduce the export time

Synchronisation the following fields from Bitrix24: TITLE (Lead Name), EMAIL (primary), LAST_NAME, NAME

Displaying of the number of successfully exported contacts

Displaying of the synchronisation errors with a description

Saving of the latest export settings

Force export, if no changes have happened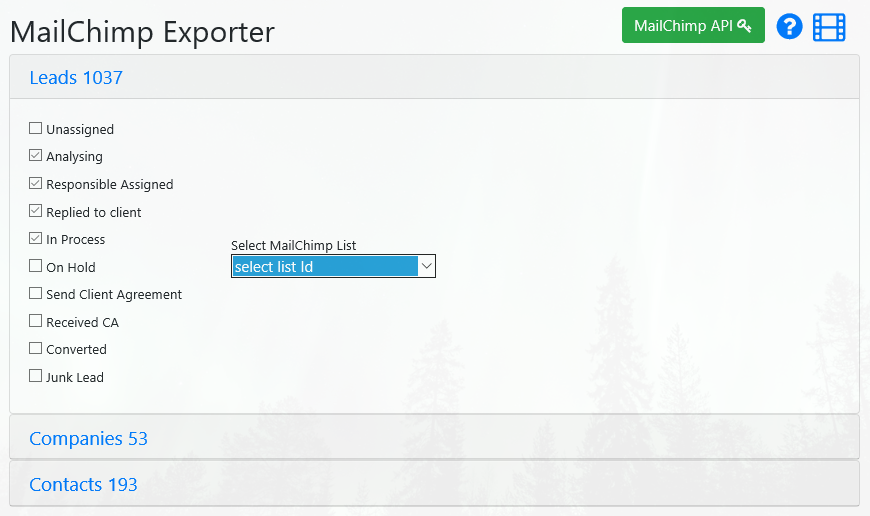 How the MailChimp Exporter works:
1. To start, enter the MailChimp API keys* in the field and click Save
2. For Leads - mark required statuses and select the MailChimp List ID to import
3. For Contacts/Companies - select only the MailChimp List ID to import
4. Specific requirements for user rights (rights to the administration of the CRM)
5. It exports only(!) with filled E-mail field and ignores lead (or contact) when it is empty

6. Free version limitation: 30 days trial
7. Commercial subscription has two plans:
Standard Monthly - $4.99 USD per month

Standard Annual - $49 USD per annum
*MailChimp account is required to run the solution (API key must be available).
To install the app follow the link: https://yourportalurl/marketplace/detail/webbee.bx24tomailchimp/
Have the solution pre-installed when you register a new Bitrix24

We are happy to receive your comments and feedback at support@webbee.co.nz